Conductor
Analytics Assessment & Roadmap Development Solution
Corios offers analytics maturity assessments and analytics roadmaps to help clients arrange and orchestrate the most important process and capability development priorities for your business' analytics activities – we call this offering "Conductor."
What Conductor Means for You
With Conductor, Corios helps our clients understand where they are on the analytics maturity scale, how their analytics operations stack up to their competitors', where they need to be in order to achieve their desired outcome, and what it takes to get there.

Corios' Conductor solution helps clients:
Map current and future-state architecture, functional requirements, data requirements, and the connections between current and future-state needs.
Develop a roadmap for your future-state analytics platform.
Identify business requirements and high level design of your future-state analytics architecture.
What you can expect from Conductor
We've developed a standard practice for conducting analytics roadmaps for our clients, rooted in the Corios Way: a repeatable process that we use for all engagements, small and large.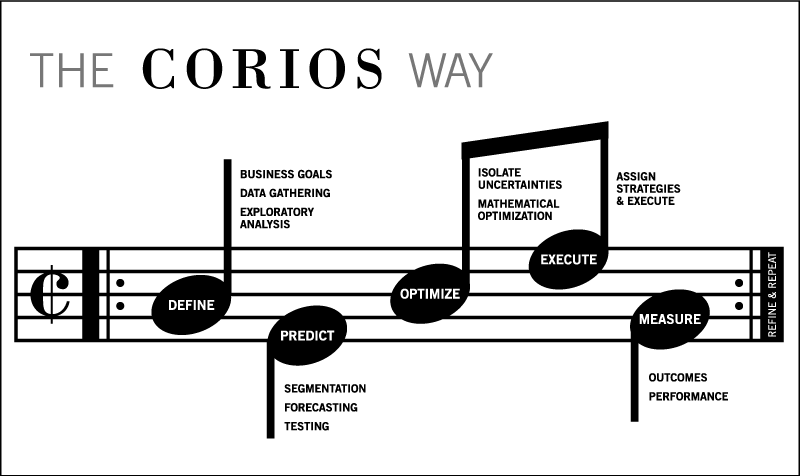 Analytics maturity assessments and roadmaps define the most important process and capability development priorities with five fundamental activities:
Structured Interviews: Corios conducts interviews with your business' leaders, subject matter experts, technicians, process owners and other stakeholders to build a picture of the current state of your analytics maturity, processes, and capabilities while also building a picture of the desired future state.
Analytic maturity benchmarking: Using a formal benchmarking instrument from the International Institute of Analytics (IIA), Corios gathers and compiles interviewee self-ratings of analytics maturity. We use this benchmarking instrument to document initial state, goal-to-current state gaps, and prioritization.
Analytic process and capability benchmarking: Corios develops an inventory of your existing processes and capabilities, and identify the most important variances from best-in-class standards.
Gap analysis: The Corios team develops profiles of your current state and desired future state for analytics maturity, processes and capabilities – then identifies and quantifies the gaps between those two states. Once the gaps have been identified, we can begin to characterize the initiatives required to close those gaps, including the time and investment required to launch and complete those initiatives.
Roadmap development: Leveraging the knowledge that we've gained about your business and analytics processes, Corios will stack-rank your gap-closing initiatives based on the greatest impact to your business objectives, with the greatest potential for achieving the desired future state.
Interested in learning more about Corios' Conductor solution for analytics assessment and roadmap development? Contact us today!